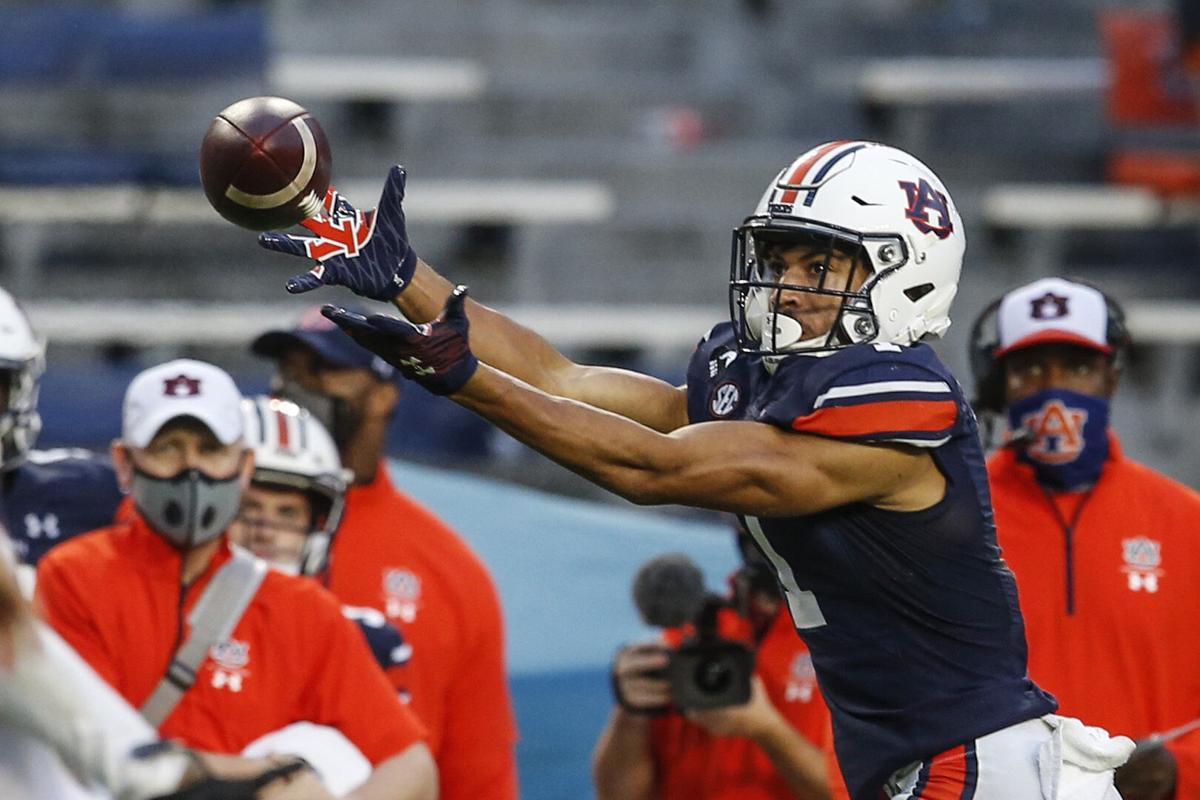 AUBURN - As productive as Auburn wide receiver Anthony Schwartz has been for the Tigers, Saturday marked the first time the junior has reached the 100-yard receiving mark in a game.
Now, the goal for Schwartz and the rest of the offense to bring more where that came from.
Schwartz proved himself to be a viable receiving threat against Arkansas by reeling in a team-high 10 receptions for 100 yards and one touchdown, with that score coming in the opening seconds of the fourth quarter. The goal now is for Schwartz to continue that play and to cement himself as a dangerous target in a receiving corps that has been banged up to start the season.
"I feel pretty good, you know. We're playing against an SEC team so you can never let up. It don't matter who they have or what's on their team," Schwartz said after the victory. "They were coming off a big win last week, so we knew they were gonna have a lot of juice. I'm just happy that we were able to pull it out still."
Schwartz's score against the Razorbacks proved to be one of the crucial moments in Saturday's game.
With the Tigers hanging onto a 20-18 lead, Auburn quarterback Bo Nix fired the football on 3rd-and-10 to his right at Schwartz, who had cut back inside as a tunnel screen developed. Schwartz caught the football, cut inside past offensive lineman Brandon Council then back outside around lineman Nick Brahms and raced to the end zone for the 17-yard score.
The touchdown gave Auburn a nine-point lead, and even though Arkansas managed to come back, it proved to be crucial in the Tigers' two-point victory.
"It was just a screen so the linemen came out. They took it, and I ran up behind them and just saw the opening to the right so I ran there," Schwartz said.
"I got a good block from Shed (Jackson) who kind of walled his man off, and I was pretty much just able to walk into the end zone. I know it was a big momentum shift for us to be able to increase our lead and just bring us back after we were struggling for a little bit."
Schwartz's performance against Arkansas was much-needed after Eli Stove missed the game due to injury and Seth Williams played despite not being 100 percent. Schwartz's high usage Saturday might have been out of necessity, but for head coach Gus Malzahn it was hopefully the start of something bigger.
Malzahn said that during the offseason it became increasingly apparent to the staff that they had to get Schwartz the ball more often. Malzahn explained Williams and Schwartz being dynamic receivers would only open up more options for both of them, as defenses would have to decide who gets double-covered and who they're willing to risk leaving in a one-on-one situation.
"Early on in the season, we've really worked hard to get the ball to Flash. We felt like after looking at last season he needs more touches, so I think that's a real positive. You can see him. He's really starting to come on," Malzahn said.
"A lot of times if they're going to single those guys, we're going to keep throwing it to them. If they do a little extra, well then you use your common sense and you start getting it to other guys. So I think with both of those factors, I think you'll see more and more touches for other guys throughout the next seven games."
Schwartz's next test comes Saturday against South Carolina, and Gamecocks head coach Will Muschamp understands how dangerous "Flash" can be.
When asked about stopping someone who is "really, really fast", Muschamp said Schwartz deserved one more "really" then explained the receiver's world-class track speed can be a matchup nightmare.
"You've got to stay on top. He's a guy that Bo's going to target in some situations where I'm sure they have some calls where they're ain't much of a read. They're going to take their shot and see if they can't hit a home run with him," Muschamp said.
"You've got to stay on top in the coverage — whether it's middle field or in split safety. You've got to have awareness of his alignment, know where he is, and try and keep somebody on top of him as best we can."
Auburn's win over Arkansas featured a career day for Schwartz, but that didn't leave him content with where he stands. Without giving much away, Schwartz said he sees room for improvement with the passing game, something he hopes to help come to fruition starting Saturday.
"I can't really delve too much into detail, but there's a lot we can improve on still," Schwartz said. "I think that each week we're going to be able to improve.
"That's the most important thing. As long as we improve each week, I think that we can become a more potent offense."
Be the first to know
Get local news delivered to your inbox!