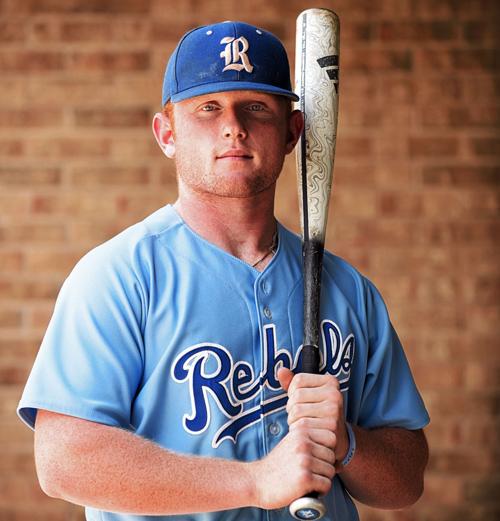 Rehobeth catcher D.J. Law, a University of South Alabama signee, will get a head start on his college career by playing with the Glens Falls (N.Y.) Dragons in the Perfect Game Collegiate Baseball League this summer.
"I told him, 'D.J., if anybody can do this – because you'll probably be playing six days a week – you'll be able to grind this with no problem at all,'" Rehobeth baseball coach John Griffin said.
The summer wooden bat league consists of teams from throughout New York that play a 50-game season. Players are chosen from colleges around the country. It's rare for a player coming right out of high school to be selected.
"My college coach recommended me to go up there and get an early start so I can be ready for next year," Law said. "I feel like it's going to be a great opportunity. It's not only going to get me ready as a player, but it will get me ready for the next level. I think it will be a great summer."
Law is scheduled to take a flight from Atlanta to Albany, N.Y., on June 5. He will stay with a host family in Glens Falls.
"I know it's a pretty good league," Law said. "There are a lot of SEC and Division I people up there. I've seen pictures of the field and it looks like a real old-timey field. It looks really nice. I know that Glens Falls is known for having really good teams."
Griffin has no doubts about his former player being ready for what's ahead. He's seen over and over again the work ethic Law has displayed while playing on the varsity for the past four seasons.
"We would have a three-hour practice and we would be cleaning the field and I'm thinking, 'I wonder what's for dinner tonight?'" Griffin said. "And there D.J. would be standing in his full catcher's equipment, saying, 'Coach, can you give me a few extra wild pitches – dirtballs?' As much as I wanted to get home, I'd stay an extra 10 to 15 minutes with him and shoot him dirtballs, work on short-hop drills and footwork drills.
"I used to think the guy was going to just fall apart, but I think all of the extra stuff he did enabled him not to miss an inning. He just built his legs up and his stamina to where it helped him."
Law has never shied away from hard work. Griffin describes the player's weight training devotion as "legendary."
"He's that guy that doesn't miss a workout with the team, but he's also working out every day at his house," Griffin said. "I told our guys, 'You know, it's not one of those things you put under your pillow and you wake-up the strongest guy on your team.' It's a visible thing he was able to do for our team to be a leader.
"By far, when it comes to the weight training, he was so much further ahead. He was probably stronger than anybody we had in the football program."
Law developed that relentless work ethic as an early age.
"When I was younger, my dad always told me that if you're not the best player on the field, then you've got to work your way," Law said. "The best way for me to work my way is in the weight room getting bigger and stronger."
This past season, Law had a .437 batting average with six home runs and 22 RBIs. He also had 12 doubles and two triples. Defensively, he threw out 14 of 25 would-be base stealers.
"D.J. knows the game and he knows the pitchers," Griffin said. "The last two years he's called the games and done a good job with that.
"He's a quiet leader. He's the guy you want everybody to be like. We could be down 9-1 and he'd hit a fly ball to left field and he'd be standing on second base. He's not that guy that would just jog down to first base and slap his hand on his leg and get all mad. He was just so consistent in everything he did."
While Law's credentials are impressive, he hungers to be better.
"I've just been trying to work two times harder than I usually do in the weight room, on the field – work with my brothers on the team," Law said. "I'm just trying to get ready for the next level any way I can."
Even if it means spending his summer in New York.
"The furthest I've probably been away from home is Washington, D.C.," Law said. "I wouldn't say I'm nervous; I would just say I'm anxious to go up there and see what it's all about."