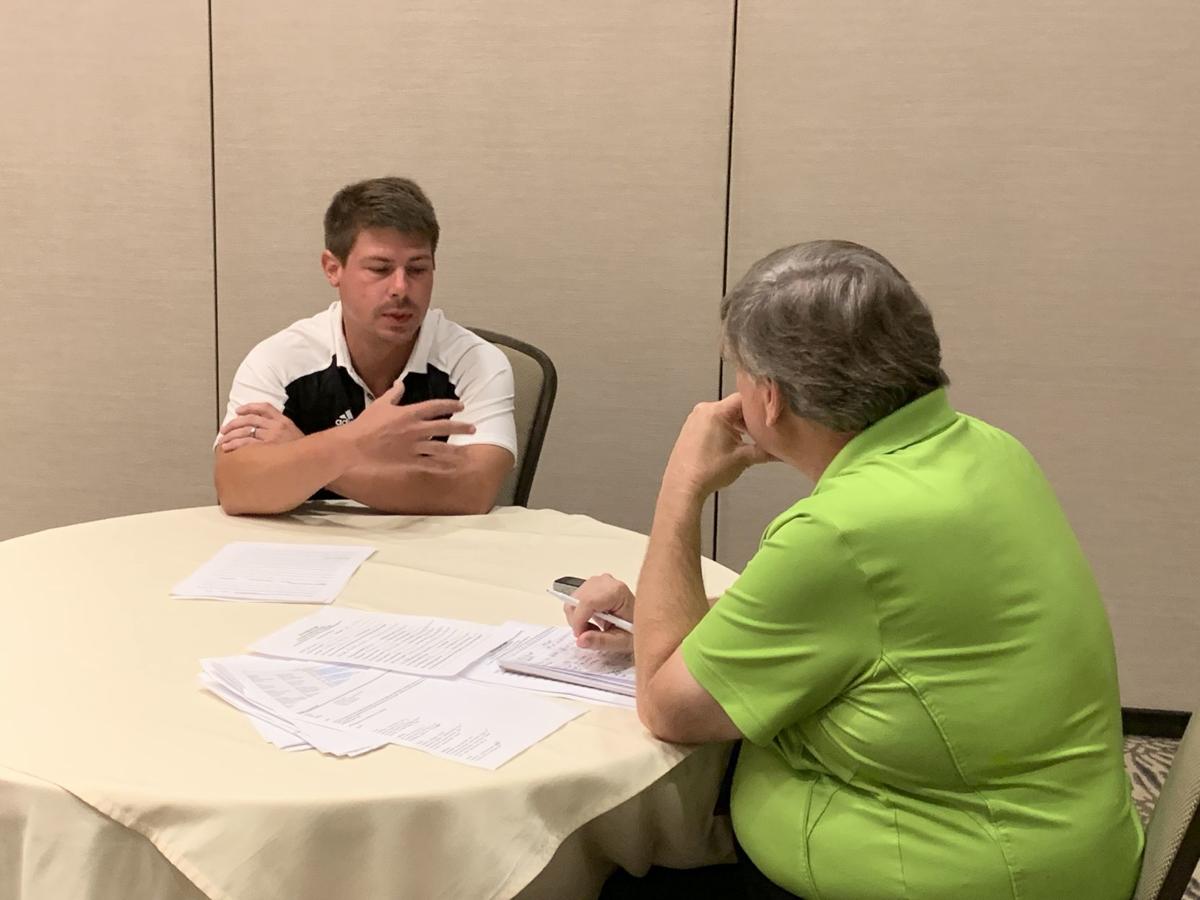 To several Wiregrass high school football coaches, the debate of whether to play this fall in the midst of the COVID-19 pandemic is not really a debate at all.
To the coaches, school and sports, particularly football, are too important as a social function for high school kids and to local communities.
"It is vital," Dothan head coach Smitty Grider said Friday during the Dothan Eagle/Encore Preseason Media Days at the Dothan Country Club. "Sports are so interwoven into who we are as Americans. These kids need it. They need the lessons it teaches. They need the experiences they carry with them the rest of their lives.
"Communities need something to rally behind. You think all that is going on in our country right now — how better is a community when they can rally behind the same thing regardless of their race, religion, political beliefs. They can all get behind a sports team."
Slocomb head coach Richard Tisdale also felt football was an important part in some kids' lives as well as townspeople in local, small communities throughout the Wiregrass and the state.
"Football means a lot to our community in Slocomb and to the state of Alabama," Tisdale said. "Not only financially what it does for these communities, but for what it means for the kids in giving them an identity and something to do every day. It is not just a game. It is an important part of our culture."
Alabama High School Athletic Association Executive Director Steve Savarese expressed confidence in a Dothan Eagle interview on Thursday that prep fall sports, including football, would start athletic competitions as scheduled on Aug. 20, provided no huge increase in the COVID-19 virus occurs to that point.
While some schools in the north part of the state have had an athlete test positive for COVID-19 and forced a brief shutdown of workouts, there have been no reports of that in the Wiregrass.
Coaches in the area said they have strictly enforced guidelines with players on social distancing, wearing masks and keeping equipment and footballs routinely cleaned.
One local school, though, has not started workouts since the AHSAA and state health officials allowed schools to re-open and athletics to re-start on June 1. Barbour County head coach Brad Martin said the Jaguar players have been working out on their own at home.
"Our board has us on hold as far as workouts go because apparently there was an outbreak of cases around Clayton, so they wanted to err on the side of caution and put us on a break right now from doing it until they get a handle on what is going on," Martin said in a telephone interview last week. He confirmed the status was unchanged on Friday.
Eufaula head coach Ed Rigby said high school athletes need school and athletics in their routine.
"The American Pediatrics Association spelled it last week — kids must be in school in the fall," Rigby said. "It is mental, physical, spiritual, emotional and psychological. It is very much needed for them.
"The bottom line is school is good for kids. They need structure in their lives. The old proverb and adage is true — the idle mind is the devil's playground. When we sit idle, our minds start to wonder and we lose focus."
At the start of the pandemic in mid-March, schools in the state were shut down and remained that way in the final two and half months of the 2019-20 academic year. Rigby worries another lengthy shutdown will result in kids dropping out of school.
"If we are sitting out of school again, I am afraid tons of kids will never go back to school," Rigby said.
While college leagues such as the Ivy League and SIAC have cancelled their fall sports seasons, the AHSAA is intent on having prep schools in the state competing in athletics this fall despite the ongoing pandemic.
That intent has filtered down to coaches, though some admit playing the full 10-week schedule for some schools, especially ones with a low player roster, might not be practical.
"We will get started," Houston Academy head coach Jamie Riggs said. "I think finishing is harder than starting. It is just so unpredictable of what is going to occur. Will there be school systems that will shut down at some point of time? When you start doing that, you can't play."
Others weren't sure what it would look like in stadiums during the season, especially whether fans, including team bands, would be allowed or how many might be allowed.
"Unless the governor does something, we are going to play," Grider said. "Now, what the stadium looks like, that will be up to each individual city and school system and it will be different in every place."
The AHSAA has indicated there will be health protocols and guidelines that will have to be followed once the season starts in August. The association is expected to release those on July 22.
Houston County head coach Chip Harris said he has heard among the guidelines that more time will be allowed during time outs to help clean any equipment and that players will social distance on extended boundaries on the sideline.
"I like the changes they have made, trying to help out, with the longer timeouts and not trying to rush things," Harris said. "Expanded the sidelines will help out. I don't know if it will help us (as a small school) as much it would a bigger school, but it helps me get closer to them when they (players) are on the goal line, so that made me happy."
Most coaches feel there will likely be some setbacks, including athletes possibly testing positive for COVID-19 during the season, but that sports needed to continue, especially after kids missed the final two and half months in the spring.
"We need some normalcy to tell you the truth and the players need some normalcy," Riggs said. "If there is any possible way to get them back to athletics and playing, they need that. They need the discipline. They need to get back to being kids again."
David is sports writer for Dothan Eagle.
Be the first to know
Get local news delivered to your inbox!