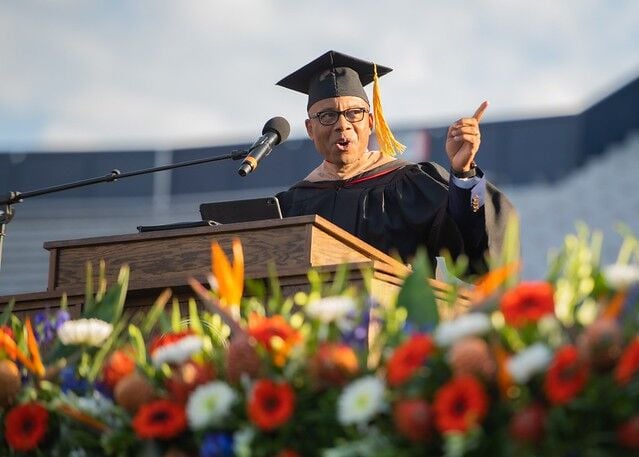 AUBURN—Greeting a gathering of students clad in caps and gowns with a plethora of "War Eagle" calls, Auburn University and Eufaula High School alumnus Kenneth Kelly helped his alma mater kick off its spring commencement weekend at Jordan-Hare Stadium last Friday night with a call for graduates to reach high as they embark on their next journey.
"Auburn has been a nest for each of you," said Kelly, who graduated from Auburn in 1990 with a bachelor's degree in electrical engineering. "As you fly from this nest today, remember that this nest is a place to come back to, to give back to and to honor through your legacy. The time has come for each of you to take flight from the nest. War Eagle, War Eagle, War Eagle!"
Kelly, a prominent banking executive and philanthropist who sits on the American Bankers Association Board of Directors, was spirited during his remarks as he welcomed the school's newest group of graduates into the ranks of alumni.
"You are here, in one of the nation's greatest venues, about to become another layer of our family that is everlasting," said Kelly, chairman and CEO of First Independence Bank in Detroit, the seventh-largest African American-controlled bank in the country.
"Today, your legacy begins as a layer in the Auburn alumni, and it is an honor to welcome you into this great family reflecting on the creed that focuses on work, hard work, in education, in honesty, in a sound mind, in obedience of law, in the human touch and in our country. I want you to know that Auburn University believes in you."
Kelly, chairman of MAC Leasing, a Michigan-based and minority-owned equipment lease financier, said students need three specific attributes to be successful.
"Like a young eagle, to fly from the nest, you need the virtues or values of what I call the 'Three C's: Confidence, Challenges and Character," said Kelly, who also holds an MBA from the University of Alabama. "Always remember, the loudest cheers come from being in the most challenging situations where you need the most confidence. You must challenge yourself if you expect to grow. Auburn has challenged you, and you have risen to the occasion and demonstrated the work ethic and skills needed for success.
"Remember, it is the wind in the face of the eagle that allows it to soar effortlessly higher beyond the risk of pesky burdens. Your character reflects what you value. It is the essence of being the Auburn Creed, by answering 'Who are you?' and, most importantly, how you will contribute to the Auburn legacy."
Chairman of the Samuel Ginn College of Engineering's engineering council, Kelly urged students to appreciate their accomplishments, recognize what Auburn has given them and acknowledge the sacrifices they and their families have made to set the stage for them to excel.
"Be grateful," said Kelly, who serves on the Federal Deposit Insurance Corporation's Advisory Committee on Community Banking. "It is my belief that you cannot be great without being grateful. I challenge you graduates to demonstrate to your loved ones your gratefulness today. Because today is special, and graduation is a moment to memorialize this occasion in a special way."