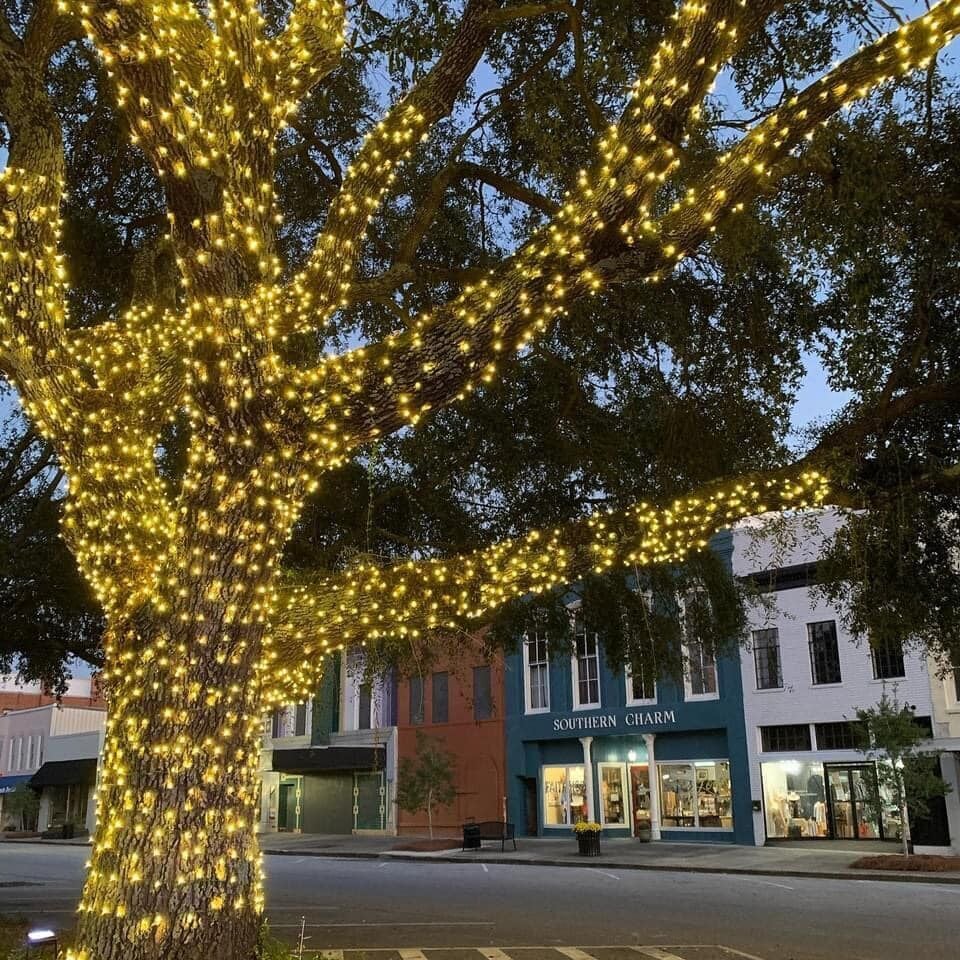 The holidays in historic Eufaula, AL isn't about checking things off of a list, walls filled with murals or fighting crowds. It is an ongoing enchanting tour of the South's Finest Homes draped in holiday cheer. It is a stroll through history to witness the nostalgia of Christmas. It is memories of childhood and family. It is seeing how Southern Halls are decked.
Eufaula begins the holiday season on the 1st Monday in November with Main Street Eufaula's Downtown Christmas Open House. Our charming boutiques and restaurants extend their hours, offering a peek at the latest and greatest holiday décor and samplings. Music fills the air at the gazebo as you stroll to each store and finish with a beautiful dinner at one of our local downtown restaurants while enjoying the tree lit median of East Broad Street.
Who doesn't know about Black Friday? We have turned the weekend after Thanksgiving into a complete extravaganza. Instead of waiting in line at big box stores, our citizens are encouraged to get that specialty item from the local merchants that actually sponsors and supports our local children. Our downtown merchants open extra early and lines down Broad Street are a welcomed sight. Small Business Saturday/Iron Bowl is Saturday after Thanksgiving. What do we do? Embrace it. Iron Bowl (Auburn Vs Alabama) comes on after lunch. In the meantime shopping may be just the thing to get rid of the pregame jitters.
Predict the score at select Main Street Merchants and the one that comes closest to the real score (entries are retrieved a few hours before kickoff) wins a gift certificate to their favorite downtown store. This has become an anticipated tradition!
Christmas Parade – Held the 1st Tuesday of December every year. Santa makes his Eufaula debut at the end of the parade. This is held in the heart of historic downtown Eufaula.
19 years ago, one of our most anticipated events was born. Mistletoe Market is a bookmark on everyone's calendar in Eufaula. The event is held annually on the first Saturday of December. The original kickoff to the holiday season. Merchants are adorned in all their glory offering discounts, specials, samplings of their gourmet goodies, a place to see your friends in anticipation of Christmas. Santa can be found at Superior Pecans, Christmas Tour of Homes is going on throughout town. Music in the Gazebo, just a true Hallmark moment.
Santa Stroll is held the 2nd Saturday in December as a reminder to the "men" in your life to get out there and let's wrap this up, pun intended! Some stores extend their hours, some will highlight the latest and greatest, some offer locals to come and register to make it easy on the gift giver to give the perfect gift. Wrapping by local clubs makes life even easier.
Santa for Seniors – We promote our special town and shops during the holidays but we also give back. Our leadership comes together and we gather and donate items to our senior citizens who need our help. All donations and items do actually go to our senior citizens in Barbour County. We put our money where our mouth is.